My new novel just went on sale! Secrets of Hominea is a magical middle grade fantasy novel: a tale of giants, gnomes, queens, and adventurers — and of science and history. It's for readers age 9 to 14.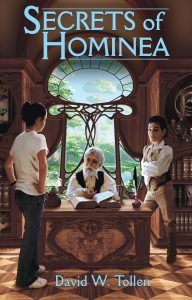 My first novel, The Jericho River, won multiple awards, including wins at the Next Generation Indie awards and the London Book Festival, as well as a bronze medal in the Readers' Favorite awards.
Here's the Amazon page for Secrets of Hominea, where you can buy a paperback or e-book. And schools and teachers can buy through Ingram, of course.
I'd love it if you would help spread the word! Thank you very much!
---
---
Alison Pulido gets more than she bargained for when she cuts middle school. She follows a strange little man into another world. It's a beautiful land where evolution breeds mythic people and animals. It's a realm of satyr dukes and gnome rebels, giant priestesses and dwarf spies, noble unicorns and monster rats, along with cataclysmic floods, stone age battles, and imperial intrigues – all shaped by forces of history and science. Alison learns tales of all these wonders from her little man and his scholar companion. But Hominea is no safe place for a young Homo sapiens. Soon, Alison finds herself caught up in the other world's struggle: in the battle between truth and ignorance.
Secrets of Hominea educates and entertains middle grade readers. And teachers will love the educational resources, including questions for discussion and reading guides.
Come follow Alison through the portal and into this magical other world …